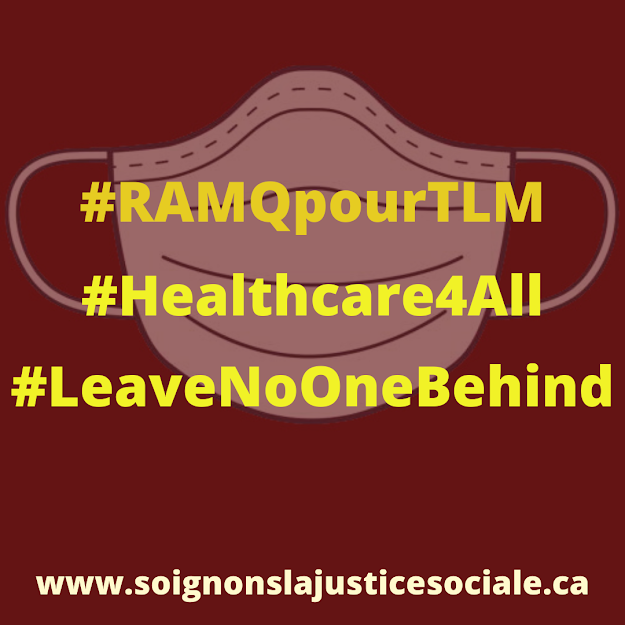 Pour consulter l'appel à l'action en français, CLIQUEZ ICI
#HealthCare4All #RAMQpourTLM #LeaveNoOneBehind – Solidarity Campaign: A Call to Action
On April 26th 2020, the Caring for Social Justice (CSJ) Collective sent a letter to the government of Quebec demanding immediate and permanent access to dignified healthcare for everyone living in the province, regardless of their immigration status. The letter has been signed by dozens of healthcare advocacy groups, along with migrant-justice, community and union organizations. It is available here, including an updated list of endorsing groups: http://www.soignonslajusticesociale.ca/.
While the government of Ontario has, at least in principle, adopted a "healthcare for all" approach during the COVID-19 pandemic, the government of Quebec has issued vague directives to healthcare institutions to render services only if uninsured people require care related to COVID-19. This is both impracticable and discriminatory. We are aware of non-status individuals being refused care and even being forced to pay for the care they need, despite testing positive for COVID-19 and requiring hospitalization. This approach is absurd and inhumane.
We are now calling on the public to support our campaign and push the government to  act immediately and ensure that everyone living in the province can access dignified healthcare, regardless of immigration status. We are asking individuals and  organizations to take part in the following "social distancing" actions:
1) If you have not already done so, please sign our open letter: http://www.soignonslajusticesociale.ca/
2) Post a picture of yourself wearing a face mask, with a message of solidarity written on it, and share widely on social media. Feel free to email us the picture if you'd like us to put it up on our website. Please use the following hashtags: #RAMQpourTLM, #Healthcare4All, and #LeaveNoOneBehind. Make sure to tag us (our social media handles are below) and elected government officials (see below for contact information), as well as provincial public health authorities (many of whom are supportive of Healthcare for All policies).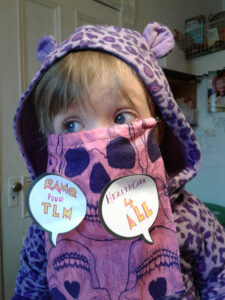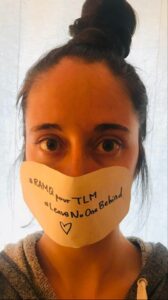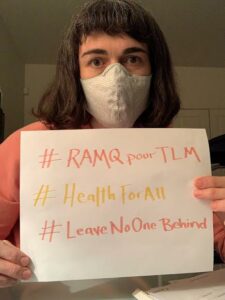 More photos on our photo galery (send us yours to appear there too!) (soignonslajusticesociale@riseup.net): PHOTO GALERY, CLICK HERE
3) Contact elected government officials by phone and email with the basic demand to immediately implement Healthcare for All measures (see below for contact information).
The COVID-19 pandemic is wreaking havoc on the most marginalized communities. Together, let's put an end to discriminatory healthcare policies and fight for a more just future for everyone.
In solidarity,
The Caring for Social Justice Collective
Twitter : https://twitter.com/collectifsjs
Instagram : https://www.instagram.com/soignonslajusticesociale/
Facebook : https://www.facebook.com/soignonslajusticesociale
Website : http://www.soignonslajusticesociale.ca/
Email : soignonslajusticesociale@riseup.net 
—
Contact information for government officials:
Prime Minister: François Legault
Francois.Legault.ASSO@assnat.qc.ca
418-643-5321 @francoislegault
Minister for Health and Social Services: Danielle McCann
Danielle.McCann.SAGU@assnat.qc.ca
418-266-7171 @MinistreMcCann
Minister for the Elderly and Family Caregivers: Marguerite Blais
marguerite.blais.prev@assnat.qc.ca 
418-266-7191 @Marguerite_CAQ
Deputy Minister for Health and Social Services: Lionel Carmant
Lionel.Carmant.TAIL@assnat.qc.ca
418-266-7171 @CarmantLionel
National Public Health Director and assistant deputy minister: Dr. Horacio Arruda
www.msss.gouv.qc.ca
418-266-6720 @ArrudaHoracio
An example of an email or a phone message:
"This pandemic has shed a brutal light on the flaws of our healthcare system, results of decades of massive disinvestment in public health, social services and primary care. It also exacerbates existing social inequalities, making the most vulnerable – including people without status – even more at risk of contracting COVID-19 and dying from it.
At a time when calls for empathy and cooperation are multiplying, we ask the Government of Quebec to listen. Why not take the example of Ontario, which announced on March 20 that all health care, even those not imputable to the COVID-19 pandemic, would now be insured for those not eligible to a health insurance card.
We demand that the Government of Quebec and the Ministry of Health ensure RAMQ coverage of all health care for everyone residing in Quebec, regardless of their immigration status, immediately and definitively."